MEET DEMARYIUS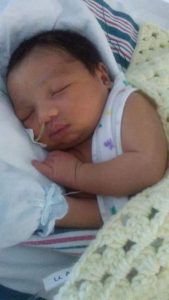 Demaryius Lamar Lacey was born August 16, 2016. When I was about 4 months pregnant I found out that Demaryius had a heart defect called Hypoplastic Right Ventricle. I found out that he would need to have 3 surgical procedures to give him the best quality of life; the first procedure immediately after birth. We were followed through my entire pregnancy by Nemours A.I. DuPont Hospital for Children, checking to see how everything was going. Hours after Demaryius was born he was transferred to A.I Cardiac Intensive care unit were he was on a medicine called prostaglandin which helps the PDA stay open to keep blood flow through the body. About a week after being in the CICU they did a cardiac catheterization and found that the blood flow in his heart was going the opposite direction, which made it too risky to even do surgery. The doctors told us that surgery wasn't an option and that he would need a heart transplant. The transplant team then started the evaluation process to add Demaryius to the transplant list, and on August 26, 2016 he was added to the transplant list. The first few weeks for Demaryius were difficult to say the least. Seeing my son this way made me feel so helpless. I begin to question god, trying to figure out why we were picked to go thru this battle.  I felt like I was being punished for something but couldn't figure out what. I began to lose faith. These past couple of weeks Demaryius has been doing really well, I can now breathe a little better. We will never give up or stop fighting for him. It's now just the waiting game, I pray every day for God to keep his arms around Demaryius and my family as we get thru the most difficult time of our lives.
Heart of Hope is honored to have Demaryius and his family in our network of miracles.  Heart of Hope will provide support and/or resources to his family as they need it on their continuing transplant journey.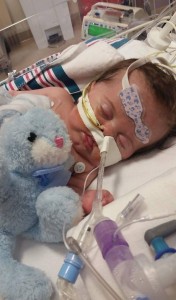 Meet Caleb W
Story is written by Caleb's Mom, Joline…
Caleb was born 7 weeks early in January during a blizzard; he just couldn't wait to see the world. In utero we knew that he had a condition called gastroschisis which is where his intestines were on the outside of his belly. We had planned for a 4 to 7 week stay in the hospital where his intestines would be surgically placed back inside his body and begin to work and they would be able to feed him and then he would learn how to eat orally. This was not what happened. While he was in the hospital he contracted RSV, a respiratory virus, and that did a number on his lungs. We thought we were going to lose him but by the grace of God he is still with us. He had to be put on a lung bypass machine because his lungs were very damaged by the virus and they could not oxygenate his body. While he was on the bypass machine a blood clot went to his heart and essentially gave him a heart attack and severely damaged the left side of his heart. He ended up having to be on a different type of bypass machine after the heart attack.  This machine would hopefully allow his heart to heal and give it the rest it needed. Although his heart did not completely heal it was able to get enough rest that he was able to come off of the machine. He has been listed for a heart transplant and we are currently waiting in the hospital.
He is the sweetest little baby and loves to see what is going on around him. One thing that is very hard for me is that I am hardly ever able to hold him; I can see it is hard for him too by the way he reaches for me and the looks he gives me. We need prayers for strength and healing for his stomach because he is still having trouble being able to get food. I pray every day and wish with all my heart that it is God's plan to heal his little heart instead of having to wait for a transplant; but here we are and here we will be until God says it's time.
 

***It is with great sadness that we report Caleb W's passing in November, 2016.  Thank you for your continued prayers for Caleb's family.***
Our son Eric was born on June 26, 2015. We purposely didn't find out his gender because we wanted to be surprised. We already had two girls, so we wanted a boy and God gave us our wish. Eric completed our family.
On October 1, 2015, he suddenly became ill and we took him to our local emergency room. He had been fussy throughout the night and when his lips looked blue in color and his breathing seemed labored, we all took a trip to the ER. I thought they would say he had RSV, or something minor and send us home. We were taken to the back immediately and Eric was treated for respiratory issues but he did not improve.   Within a short matter of time, we were told that Eric needed to be airlifted to AI DuPont. Then one of the staff advised me that Eric's heart looked swollen. After the helicopter took off we got on the road to DuPont; before we arrived, a doctor called and said that our son was very sick. Once we reached the hospital and Eric was stabilized we were advised the Eric had Dilated Cardiomyopathy and was in severe heart failure. He was then placed on a ventilator and meds to assist him. Later that week we met with the transplant team and learned that Eric needed a new heart to survive. Eric was listed on October 14, 2015. He showed outward signs of improvement, but his heart function was still poor. On Friday November 13, 2015 the transplant team came to Eric's bedside to observe him. He was having a bad day and seemed to be worsening. They advised us that they had an offer for a heart for Eric. He went into surgery that night and was out by Saturday November 14, 2015 in the early morning.
Eric quickly recovered and is now at home with us, as of November 27, 2015 (his Dad's birthday). Eric will require follow up appointments and medications for the rest of his life, but he is our miracle baby.

Meet Dean
On March 12, 2015 the Short- Africa family welcomed Baby Dean into their family.  He was a wonderful and amazing addition to their three beautiful girls!  A few weeks later, Dean's mother noticed that his lips were blue.  In the moments following little Dean went into cardiac arrest on the living room floor.  His mother performed CPR until medics arrived.  Upon reaching Bryn Mawr Hospital it was clear that Dean had an enlarged heart.  He was immediately transferred to A. I. DuPont Hospital where he was diagnosed with Hypertrophic Cardiomyopathy and pericardial effusion- too much fluid around the heart.  He stayed in the hospital for two months as doctors removed 80 cc's of fluid from his chest, administered tests, performed surgeries, and gave him much needed blood transfusions.  He is currently undergoing a heart transplant evaluation, waiting for just the right time to list him for a donor heart.
Heart of Hope is honored to support Dean's family on their journey.
Meet Caleb
Caleb James Eliason was born a healthy baby May 14, 2014. He had just turned nine months and was starting to pull himself up on furniture, eat a variety of foods, and explore his world. Early on the morning of

Tuesday, February 17

, Caleb became unresponsive in his mother's arms and was rushed to A.I. Dupont Children's Hospital. For over thirty minutes, he was in cardiac arrest and had to be shocked three times. After a slew of tests, the doctors determined Caleb had atypical Kawasaki's Disease. This caused the creation of a giant aneurysm in the coronary artery supplying blood to the left side of his heart. Over time, a clot had formed, blocking blood flow and oxygen, resulting in a heart attack. Consequently, the left side of his heart could not pump effectively. Doctors expected brain damage from his prolonged cardiac arrest and feared he would not survive. God had other plans, however, and Caleb began to heal, showing no neurological abnormalities.
In time, he was extubated, doing therapies, and eating solid food. The physicians attempted to wean him off the medication infusion that helped his heart pump, but he could not function without it. Unfortunately, Caleb suffered another heart attack on March 25, which prompted the decision to immediately list him for a heart transplant. He was reintubated and placed back on numerous drips. Medications corrected the blockage, and he underwent a fourth heart catheterization, which involved a sternotomy.
On April 9, Caleb was again extubated and within the next week, weaned off the IV sedations. He has resumed his therapies, has been tolerating his tube feedings, and has been gaining weight. We are praying that Caleb will be as healthy as possible when he receives his new heart.
Update- Caleb received his new heart!  He is now home and recovering.  He continues to work daily on his many therapies.  The family thanks you for your prayers!
Meet Maddie
On Aug. 6, 2010 Madison was taken to her primary care provider because she wasn't acting like herself; she was vomiting, lethargic, and had puffy eyes. The PCP instructed us to take her to the ER to get Maddie's electrolytes checked. In the ER, a chest x-ray was taken to rule out pneumonia – this is when they noticed Maddie had an enlarged heart and she was flown to CHOP. Maddie's parents wanted to get a second opinion so they visited AI DuPont and had her care transferred there. Maddie was at home taking 5 different medications to help control her heart failure. On Feb. 14, 2011 Maddie was admitted to AI to wait for a transplant.
On March 23, 2011, she received her "Gift of Life." A few days prior to her heart transplant, the team of doctors was discussing the use of the Berlin Heart- so her transplant was truly a blessing and a miracle. Her new heart came just in time.
Post-Transplant:
For the most part life after transplant has been uneventful. There were a few setbacks, but nothing major until January 16, 2015, when a routine clinic visit showed decreased heart function. A biopsy of the heart was done and it showed a severe rejection factor of 2R and Maddie has been fighting it ever since. Her first round of steroids did not effectively combat the rejection so Maddie is still in the hospital receiving special medications to help stop any damage.
Heart of Hope is honored to have Maddie and her family in our network of miracles.  Heart of Hope will provide support and/or resources to the DiTizio Family as they need it on their continuing transplant journey.
Meet Hannah
(written by Hannah's Mom, Beth)
Hannah was born on June 13, 2013 with Hypoplastic Left Heart Syndrome.  She was a fighter right from the start!  She had her first surgery on June 17 and was discharged just six days later.  She had some minor complications that landed her back in the hospital, and at 6 weeks of age she had several minor strokes.  She started having seizures and Hannah had to fight hard to come back from them but she did!  She had her second open heart surgery on November 19, 2013 and was discharged five days later.  Since then she has been a thriving, spunky, and joyful toddler.  She is fiercely independent and loves to cause trouble.  Her big sister, Addison, is her favorite person and she will follow her around all day calling "Addie Ri" as she goes.  On December 28, 2014, while on vacation in Bethany Beach, Delaware, we noticed that Hannah wasn't herself.  As symptoms started to increase we were instructed by her cardiologist in Virginia to bring her to A.I. duPont Hospital in Delaware.  Doctors then discovered that she had a very large blood clot blocking blood flow to her only ventricle and that it had damaged the heart beyond repair.  Hannah went into cardiac arrest and was administered CPR for 55 minutes while she was placed on ECMO (essentially, bypass).  Just five days later she had surgery to place her on the Berlin Heart machine and she was officially listed for transplant.  The staff at A.I. duPont Hospital saved her life and are taking excellent care of her until we wait for her new chance at life.  Our world has drastically changed and as long as Hannah keeps fighting we will fight right alongside her!
Heart of Hope is honored to help this family on their journey.
***It is with great sadness that we report Hannah's passing in January, 2015.  Thank you for your continued prayers for Hannah's family. 
Meet Brayden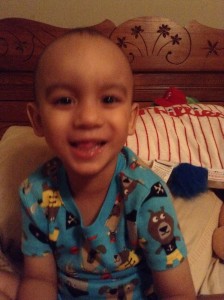 Brayden is a four year old boy with Barth Syndrome and Dilated Cardiomyopathy.  The left side of his heart has always been weak. On December 11, 2014 Brayden complained of back pain and shortness of breath. Upon visiting the Emergency Room at their local hospital Brayden was airlifted to Nemours/A.I. DuPont Hospital for Children.  On December 12 his parents were told their son would need a heart transplant to survive. Brayden was listed for transplant on December 17 and currently waits in the Cardiac Intensive Care Unit.
****Brayden received his new gift of life and is doing very well!  He is very happy to be home with his family and has recently started preschool.  Heart of Hope will continue to follow Brayden on his journey of healing!
Meet Terrin
During Mom's first ultrasound the doctor found that Terrin had a rare heart condition known as Hypoplastic Left Heart Syndrome. After numerous neonatal appointments and a very stressful labor Terrin was born in March, 1999. She had her first open heart surgery at 3 days old.  By the age of 2 she had undergone all three stages of the Norwood Procedure to help maximize her heart function.  Terrin also received her first pacemaker at age 2 and currently is on her third pacemaker.
Terrin was also diagnosed with Idiopathic Scoliosis. Her spine was curved at 65 degrees.  She had a steel growing rod placed in her back in the summer of 2007.  In 2011 she had two permanent rods and multiple screws placed in her back.
A few days after Easter in April, 2014, Terrin fainted while at the movies with her friends. The cardiologist said that she was having a series of PVC's (pre-ventricular contractions).  After further testing the doctors planned for the implantation of a defibrillator.  One week before the procedure date it was cancelled.  We were told that we now need to start the process of testing for a heart transplant to give Terrin the greatest possible chance of a healthy life.
Heart of Hope is honored to help support Terrin and her family!
Meet Tay
My name is Dontayshia Tingle and I am 19 years old. I am currently enrolled in college majoring in nursing and the mother of a beautiful healthy three year old son. Three years ago after giving birth to my baby boy I was diagnosed with peripartum cardiomyopathy. It is a rare disorder in which a weakened heart is diagnosed within the final month of pregnancy or within 5 months after delivery. This illness later resulted in me having to receive a heart transplant. So now after my transplant I am trying to live somewhat of a normal life of being a wonderful mother to my son and continuing my education and doing something with myself. With my history of health it's hard for me to work long enough hours to provide for me and my son. I have little to no family support besides from my grandmother who also provides for my 4 other siblings.   I will not let this set back stop me from accomplishing my goals and doing what it is that I want to do with this second chance at life that I was given. But I cannot do this alone.
Heart of Hope is honored to help support Tay and her family!
Meet Diangelo
Diangelo cut his finger in February, 2014 when the doctors noticed he had an irregular heartbeat.  From there we were transferred to A.I. duPont Hospital for two weeks as they diagnosed him with Dilated Cardiomyopathy and regulated his medications.  Later, in September, Diangelo experienced difficulty breathing and went to the local Emergency Room.  He was rushed to A.I. duPont after tests showed that he had significant fluid around his lungs.  It was determined that his heart was only pumping at 11% efficiency.   Diangelo underwent surgery to implant a Ventricular Assist Device, allowing him to continue to live rather normally as he awaits a healthy heart.  He hopes to be released from the hospital by Thanksgiving where he will continue to wait at home.
Heart of Hope is honored to help support Diangelo and his family!
Meet Sparrow
"Made to Fly" (Story Written By Nikki and Nathan Potter, Parents)
Sparrow Tilli Potter was born on Sunday, August 17th, 2014, more than three weeks earlier than we expected.  She immediately had trouble breathing.  The nurses put her on oxygen, but it wasn't enough support.  Early the next morning she was transferred to the NICU at Geisinger Medical Center in Danville, PA.  There the doctors put her on a ventilator and began trying to figure out what was wrong.  She had her first echo a couple days later, which showed a full, healthy heart.  That was an answer to prayer.  The doctors diagnosed her with Premature Lung Disease or RDS.  A few days later, she was showing signs of improvement, and the doctors began to wean her support.  She came off of the ventilator.  She began to eat breast milk, and we could finally hold her.  But on Thursday, August 28th, she had a catastrophic event that nearly took her life.  In a matter of about minutes she turned completely white, and her temperature plummeted.  She was immediately put back on the ventilator, and the doctors began to scramble to try to figure out what was wrong.  She got another echo later that night.  It showed that the left side of her heart had stopped pumping.  She was flown to A.I. DuPont Hospital for Children the next morning and admitted to the CICU.
The doctors there diagnosed her with Dilated Cardiomyopathy.  The left side of her heart is severely damaged, severely swollen and not working at all.  They are still unsure whether her cardiomyopathy is from a genetic disorder or a viral infection.  A couple of days after arriving at A.I. she was stabilized.  She received blood transfusions and a lot of medications, as well as support from a ventilator.  The doctors told us that they wanted to list her for a heart transplant.  There's no way to tell you what that's like.  It's shattering.  She was listed for a heart transplant on her original due date, Tuesday, September 9th, 2014.
Since then she had surgery to repair a blood vessel in her heart that was making her heart work harder.  She has had more blood transfusions, but she has taken BIG steps to reduce the amount of support she needs.  She has come off the ventilator.  As of Friday, September 19th, she is breathing without any support!  She is a feisty little baby.  The nurses say that her strength is unbelievable, given the condition of her heart.  Her heart function hasn't improved.  The left side of her heart is still not working, and her heart is still receiving a lot of medication to help her stay where she is at. 
Going through this process is very difficult.  We have two boys who are staying with their grandparents about 4 hours away.  We miss them dearly.  We spend a lot of time with Sparrow talking to her, reading to her and holding her hand.  We could not go through this trial without the strength, the peace and grace from Jesus Christ our Lord and Savior.  Through Jesus Christ, through His sacrifice on the Cross, through His Resurrection, we have faith.  We have hope, and we have Salvation.  He is the Great Provider and the Great Physician.  Sparrow is in His hands.  We continue to pray for her full and complete recovery, and we know that God will answer our prayers through His will.  He has a plan for Sparrow, and He will show himself greatly through her life. 
Thank you for reading our story.  Thank you for your support of Sparrow through prayer and generosity.
Nate & Nikki
Matthew 10:29
Are not two sparrows sold for a penny?  Yet not one of them will fall to the ground apart from the will of your Father
Update:  Little Sparrow is a miracle!  Little by little her heart function improved.  She astounded doctors and nurses with her amazing strength.  Her parents stayed by her side as she became stronger and the many medications were eventually reduced to nothing. Mid October, little Sparrow was sent home for the first time since birth.  On Thursday, November 6th she was officially removed from the heart transplant list.  Heart of Hope is overjoyed at Sparrow's recovery and wishes the family much health and happiness today and always!
Meet Brandon
Brandon was born on 10/26/03 with Hypoplastic Left Heart Syndrome.   He had his first surgery at 1 day old and 2nd surgery on his first birthday.  Due to neglect of his biological parents he never received his vital and life-saving third surgery.  When his adoptive parents stepped in Brandon was in heart failure and needed a heart transplant.
He received his first heart transplant on December 28, 2007 and did very well for the next five years.  In December of 2012 he encountered severe rejection and was treated immediately.  In September of 2013 Brandon returned to Nemours/A. I. duPont Hospital for Children with the Rhino Virus and again went into severe rejection. After several heart biopsies it was determined that his heart was failing and that he would once again need a new heart.  He was subsequently listed for transplant and then attached to an artificial Berlin Heart where he currently waits for his miracle.  Heart of Hope- The Caralynn Titter Foundation, is honored to help this family during their transplant journey.
Update: Brandon passed away in February, 2015.  While our hearts our heavy we know that his pain is over and he has a new and glorious body.  Thank you for praying for little Brandon and his family. 
Meet Bentley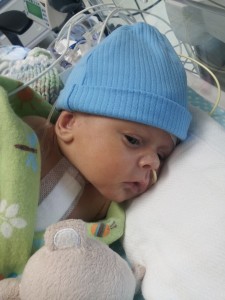 Beautiful Baby Bentley was born Sunday, April 14, 2013.  Bentley was immediately sent to A. I. duPont's Hospital for Children where he was diagnosed with Hypoplastic Left Heart Syndrome.  While the Norwood procedure usually gives babies with HLHS a fighting chance, Bentley's severe right ventricle leak made a heart transplant the only option.  He was officially listed for transplant on April 30, 2013.  In his short life he has already endured several surgeries to sustain him until transplant.  His parents Nicholas and Kelsee have been on a roller coaster ride since his birth. Please pray for the strength of baby Bentley and his brave parents.
We will keep you posted on Bentley's progress. 
***It is with great sadness that we report Bentley's passing in August, 2013.  Thank you for your prayers for Bentley's family. 
Meet Sha'Mar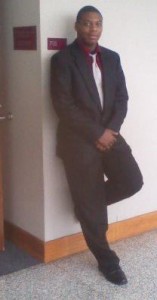 My name is Sha'Mar and I want to tell you how I ended up in Alfred I. DuPont hospital. On November 2 I had some chest and abdominal pain unlike any I've ever felt before. The first couple days I didn't pay it much mind. Then, on November 4 as I was walking home I felt short of breath and the pain was worse so I tried to fight it and get home. I got home and I was doubled over and my little brother knocked on the door and told my mom that I needed to go to the hospital. We got to the hospital and I was told I had to have a chest x-ray to see if it was my Gallbladder; it wasn't. My heart was three times the size of a regular heart for someone my age and size. I was then transported to St. Christopher's Children's Hospital in Philadelphia and they did what they could for me but it wasn't enough so they sent me to A. I. duPont and I've been getting better since I got here. I've had a Cardiac Catheterization and a biopsy done. Now I'm on 2B (Cardiac floor), waiting to see if the medicine I'm taking is going to help me.
I am seventeen, I'm in eleventh grade, I'm a B average student, and I have many plans for my life outside the hospital.  I want to become a professional football player, or a chef and co-own a five star restaurant with my dad. 
I am unsure of what the future holds, but I know one thing:  I am tough.
***Sha'Mar received his new heart on Christmas!  He is doing well and has been discharged, though he continues to visit the hospital regularly for checkups and short stays.  His family thanks you for your prayers!
Meet Wesley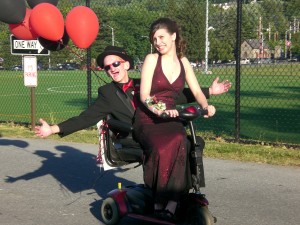 Hi.  My name is Wesley Schneeberger.   I turned 19 earlier this year while a patient at A.I DuPont Hospital.  The picture accompanying this note is of me and my date, Katelyn, at the 2011 Coatesville (PA) High School Senior Prom.  We had a great time.  My alma mater has a prom parade every year, a tradition that goes back many years.  The prom goers come to the prom in a variety of unique conveyances.  However I think that Katelyn and I are the first couple to arrive at the prom on a medical scooter!
I have been a long time patient at A.I. DuPont since I was about 4 years old.  My undiagnosed condition effected the development of my muscles, endurance and my growth overall.  I've had numerous surgeries on my feet to fuse bones to straighten them out every time I had a growth spurt.   In fall 2006 I had to have a full spinal fusion to correct severe scoliosis.  In spite of these setbacks and surgeries I've lived a fairly normal life at home with my parents, Noel and Libby, and my older brother, Grant, who is a junior at Penn State University studying aeronautical engineering.  I've attended public school and graduated from high school.  I even completed my first semester of college in fall 2011.  My course of study is/was economics and business.  I also earned my driver's license and drive around a Honda CRV with a power lift on the back for my medical scooter.
A couple of years ago I found out that the aortic valve in my heart was calcifying and beginning to fail.  I visited my cardiologist at DuPont every six months to monitor the situation.  Unfortunately it got worse and in January 2012 I agreed that I needed to have the valve replaced.   On February 27, 2012 I entered A.I. DuPont Hospital to undergo the "Ross procedure" in which my pulmonary valve would be used to replace my damaged aortic value and a cadaver valve inserted in place of the pulmonary valve.  The operation took nearly 9 hours, because it turned out that the calcification of my aortic value was worse than expected.  Instead of the Ross procedure I had an artificial valve inserted instead.  The surgeon later told my dad that he had never seen such calcification of the heart and arteries in someone so young as me. 
Three days post-op I was sitting up in bed talking about how it felt like I had been hit by a truck.  Unfortunately that evening I had a heart attack and would have died if not for the heroic efforts of the medical staff in the cardiac intensive care unit.  It turned out that my heart was shot and I was subsequently put on two heart pumps (ventricular assist devices or VADs) to await a heart transplant.   However from March through June 2012 I had several other surgeries to address various emergencies with my lungs, stomach and the heart pumps.  I was not fully conscious most of that time and no one knew if I would recover at all, and if I did awaken, what kind of shape I would I be in.   Throughout this ordeal and since then my mom and dad and close friends have been by my bedside every day.  I know that early on no one at DuPont thought that I would recover, except for my family.  But I am a persistent and driven individual.  If I want something I do not take no for an answer.   I can out-wait anyone including the doctors!  
In July I began to improve and by the end of the month I had my first trip outside to breathe some fresh air for the first time in 5 months.  My physical and mental rehabilitation began to improve exponentially.  My dad said that I "hit the gas pedal and left everyone behind. "   Indeed my therapists often commented (and still do) that they have to keep changing my therapy regimen to keep up with my improving condition.   
It is December 2012 and I have been in the hospital 9.5 months and working on improving my health so that I can be listed for a new heart.  Two weeks ago the surgeons hit me with a new hurdle.   In addition to a new heart I will need a new kidney as well.  It seems that my kidneys took too big a "hit" from the previous surgeries and medications, and the surgeons believe that the trauma of transplanting a new heart and taking anti-rejection medications will cause my kidney's to fail.  In addition the surgeons said that they could not do the double transplant here at A.I DuPont and are looking for an adult transplant center in the area to transfer me to that has experience in double transplants.  This potential move is not pleasing to me or my family given our history and comfort level here at DuPont.
I don't know what God's plans are for me, but I can't help but to think that I am getting stronger to be put on the transplant list for a good reason.  Whether I stay at DuPont or move somewhere else I am confident that I will be listed, that I will get a good heart and kidney and I will return to college to pursue my degree. 
I am…Wesley Schneeberger.
***It is with great sadness that we report Wesley's passing on May 22, 2013.  After a 15-month struggle Wesley is finally whole again.  Thank you for your prayers for Wesley's family. 
Meet Yaarit
Beautiful three and a half year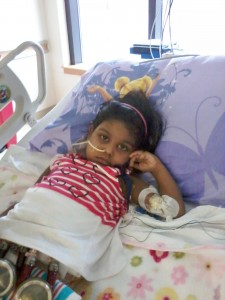 old Yaarit is currently depending on a bi-ventricular pediatric heart pump known as the Berlin Heart.  Daughter of Mustak and Jaki, Yaarit was a healthy little girl until a sudden rapid decline in June, 2012.  After severe swelling and extreme fatigue, Mustak and Jaki were given a prompt appointment at A. I. DuPont Hospital for Children's Cardiac Center.  Further tests revealed that Yaarit was suffering from the very rare congenital heart disease called Restrictive Cardiomyopathy.  Yaarit was immediately admitted to the Cardiac Intensive Care Unit on June 26, 2012.  The family was stunned-they had no idea that this deadly disease was raging in their little girl's body.  Yaarit's condition was extremely tenuous; the doctors did not believe she would survive transplant surgery in her current condition.  Surgeons decided on the Berlin Heart for Yaarit, hoping to allow the body to recover and her little lungs to improve before placing her on the heart transplant list.  Yaarit reacted wonderfully, and was healthy enough to be listed on September 27, 2012.  She currently waits, with her Mom by her side, until her donor heart arrives.  The family resides in Egg Harbor Township, New Jersey, where Mustak continues to support his family and allow Yaarit's older brother Arbid to stay in school.  The family travels back and forth from Atlantic City to spend time together whenever possible.  Heart of Hope- The Caralynn Titter Foundation will support this family in any way they can!
***Yaarit received her life saving transplant in January, 2013.  She is currently home with her family and doing really well.  Her family thanks you immensely for your prayers!!
Remembering George
George Garrity Benton was well acquainted with the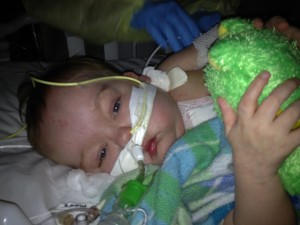 doctors, nurses, and staff at A. I. duPont Hospital.  A frequent flier from birth,  2 year-old George was eventually admitted for heart transplant and listed on January 6, 2012. Tara knew this journey would be long, and the family decided to move into the Ronald McDonald House of Delaware for the duration of the stay while George's father Kenny continued to travel for work and provide for his family.  Tara, her mother Sharyn, and three children moved into a small room at the RMH and the children transferred to Wilmington area schools.
George's first month was spent on the cardiac floor, and boy was he making the most of it!  He had the attention of anyone who walked by with just a wave of his finger, and lit up your heart with his beautiful smile.  He made his frequents rounds of the floor in his walker while his mother Tara  lovingly walking aside with his oxygen and medical pole.  He made friends very easily and brought fun and happiness to the floor.  The family received the joyous news that George had been offered a heart on February 11, 2012.  Surrounded by family and friends, George went into surgery late that afternoon.
Sadly, George's new heart did not agree with his little body.  George fought long and hard for 6 months battling infections, pulmonary hypertension, kidney and liver function concerns, and heart failure.  Despite the efforts of the medical staff and the prayers of friends and family, George went home to be with the Lord on Saturday August 25, 2012. He was in his mommy's arms and surrounded by his loving family.
George and his family will forever be a Heart of Hope family.
Meet Josie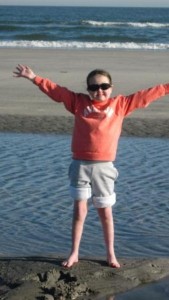 Josie was a healthy 7 year old girl until the 2nd of October 2010, when she fell ill with what her parents Marge and Joe thought was your standard, run of the mill "GI bug." Marge mentioned during this time Josie's heart felt as though it was "beating out of her chest". Within the next 2 days, Josie would go from Chester County Hospital to A.I. Dupont, and be diagnosed with myocarditis. This is an inflammation of the major muscle of the heart, which causes the chambers of the heart to become enlarged, hindering the heart's ability to pump blood to other parts of the body. Josie was a fighter through that first week but her heart continued to weaken and she required more supportive measures. During the following week, the Bastas were told by her physicians that Josie needed a heart transplant. In the meantime, Josie required a greater aid to bide her time until this gift arrives. She underwent the surgical placement of a Berlin Heart Pump on the evening of October 14th. All went well, and Josie's vital signs (heart rate, blood pressure, and respiration) continued to stabilize.
Josie and her family continued to live in the Cardiac Intensive Care Unit for the next ten months.  Traveling between Josie in the hospital and their son at home, life had changed dramatically for the Basta family in a very short amount of time.  The family received three donor heart offers that ultimately were denied under the surgeon's judgment.  Finally, the blessed day arrived!   On September 9, 2011, Josie received her long awaited gift.  After a successful transplant surgery Josie was on her way to recovery and her long awaited departure from the hospital.  On Halloween day, October 31, 2011, Josie and her family went home.
Heart of Hope is honored to have Josie and her family in our network of miracles.  Heart of Hope will provide support and/or resources to the Basta Family as they need it on their continuing transplant journey.
Meet Ahsya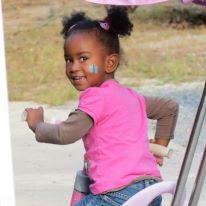 Ahsya Renee was delivered to the Gehman's as their foster daughter at only 2 days old.  She ended up in the hospital a week later where she was diagnosed with a heart defect- non compaction of the left heart ventricle along with a few other things.  At 16 months of age, when the left side of little Ahsya's heart did not pump enough to supply blood to her body, she was admitted to A.I. duPont's Hospital for Children on December 3, 2010.  Ahsya was listed on the pediatric heart transplant list on January 5 as her heart cath numbers showed improvement. She was expected to need the Berlin heart when admitted and surgeons prepared her parents for that, but thanks to God she responded to the Milrinone and was able to stay on the regular cardiac floor for the duration of her wait. Because of this and some other issues, the parents were able to adopt Ahsya, and her adoption was complete only 5 days before a heart became available.  On April 12, 2011, their miracle came.  After a successful surgery, recovery began and the new little heart found its place in its new home.  Although Ahsya had her challenges, she was discharged in May, 2011 and is doing wonderfully at home.
Heart of Hope is honored to affiliate with this beautiful family, and will provide support and resources as needed on their continuing journey.